Leading the development of innovative therapeutic treatments
Otsuka Medical Devices is striving to make a difference for patients where existing therapies have either proved ineffective or the treatment options they need are yet to exist. Through our advanced device technology, we are confident in our ability to accelerate innovative treatments such as endovascular therapy and photodynamic therapy to provide solutions to currently untreatable conditions.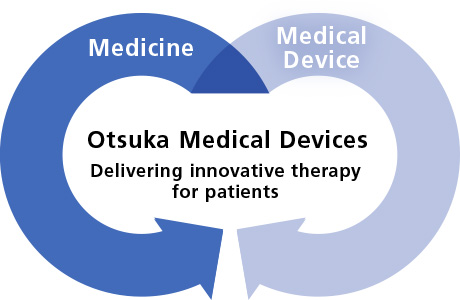 Meeting the needs of patients through heritage and innovation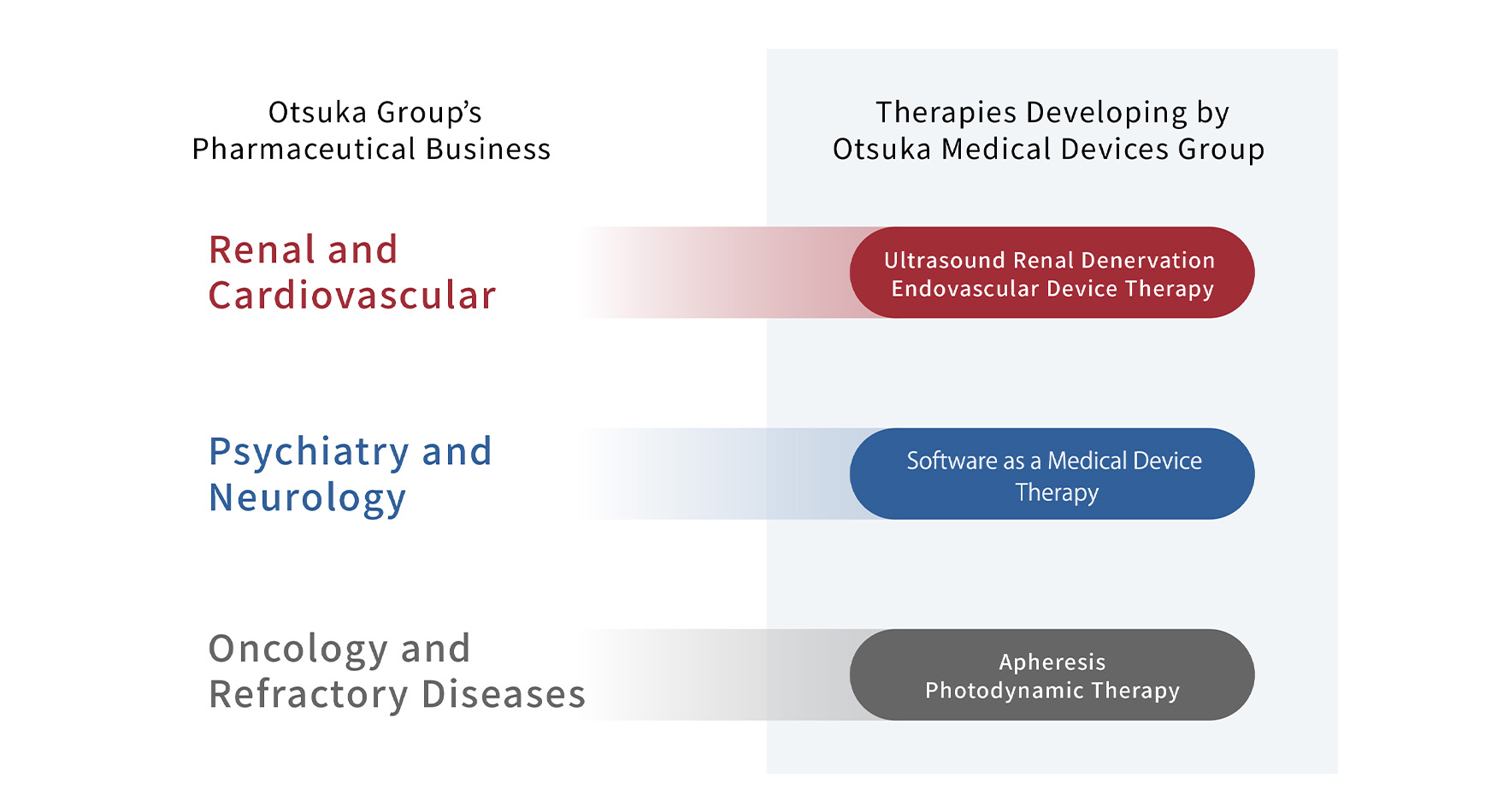 For over a century, the Otsuka group has developed a strong network of medical specialists in wide-ranging fields and accumulated a deep knowledge bank on diseases. Otsuka Medical Devices utilizes the medical heritage of the group's pharmaceutical businesses and is committed to pushing the boundaries in the field of medical device technology. This combination of history and modernity is our core strength, enabling us to meet the needs and demands of our patients through innovative, minimally invasive treatments that are less impactful on the body.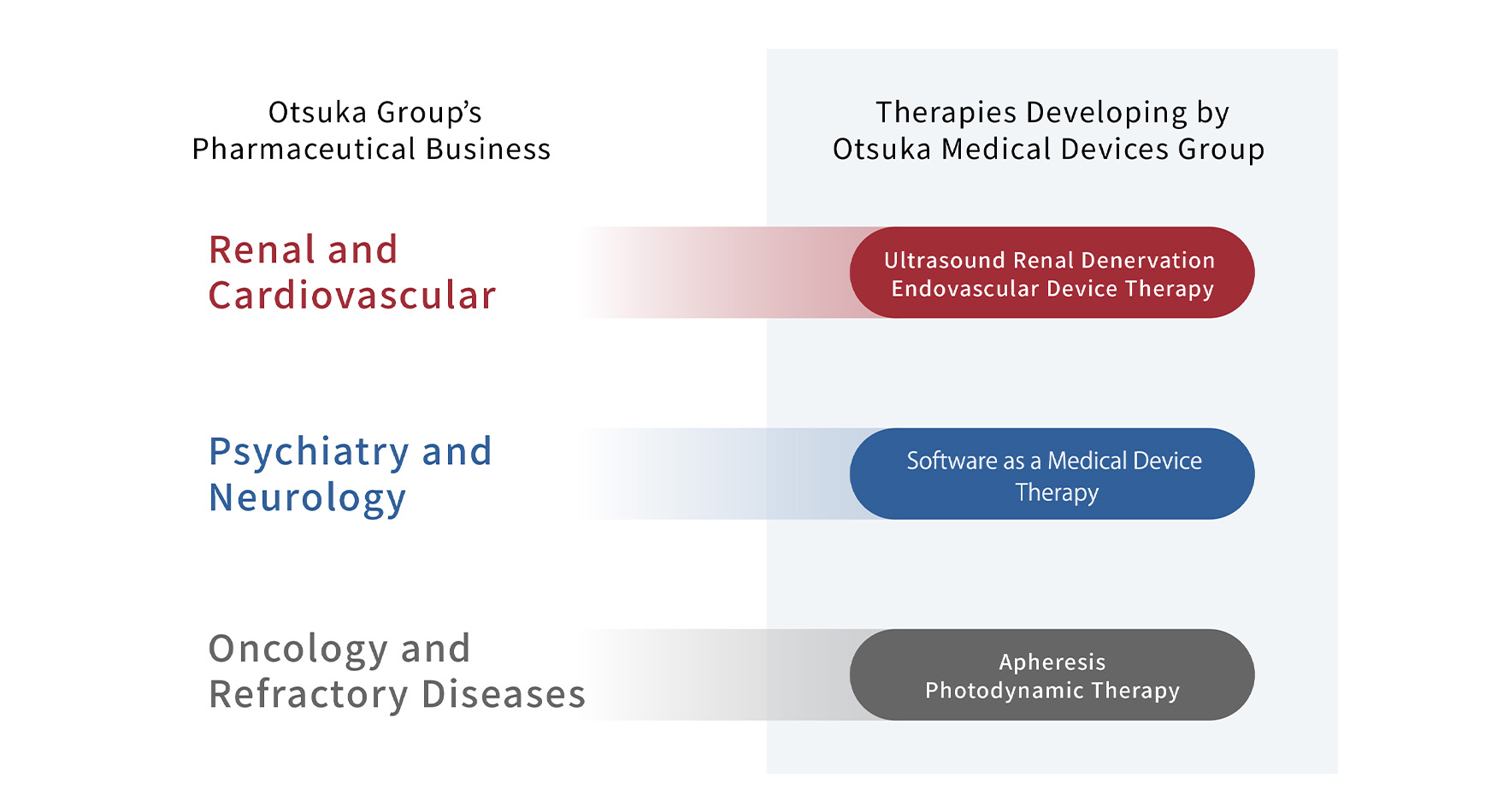 Peripheral Vascular
Stent System
A stent is a medical device made of mesh metal. When implanted in the stenosis part of peripheral artery, it acts as a scaffold to keep the artery open, improving blood flow.
Thrombectomy Device
This medical device is used in endovascular treatments to directly remove blood clots from arteries to restore blood flow. It is used for the treatment of cerebrovascular diseases, among others.
Ultrasound Renal
Denervation System
The novel treatment normalizes overactivity of the sympathetic nervous system leading to blood pressure reduction and other effects. This groundbreaking therapy is achieved by a proprietary catheter inserted into the renal artery, where ultrasound waves are emitted to denervate renal sympathetic nerves.
Apheresis
A minimally invasive treatment method that separates plasma and cellular constituents in the blood via extracorporeal therapy techniques. The process also separates and removes harmful fluid factors, such as antibodies, inflammatory cytokines, metabolites, and toxic substances.
Photodynamic Therapy
(PDT)
This treatment method utilizes light-sensitive medicine—known as photosensitizing agents—together with a light source to eradicate cancerous cells. The medicine is administered to the patient and absorbed by the tumor tissue. A light source is then focused on the affected area causing a photochemical reaction to generate active oxygen that degenerates and destroys the cells.
Flagship products of Otsuka Medical Devices Group
Distributed products by Otsuka Medical Devices (Japan market only)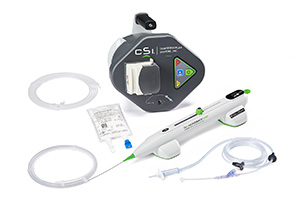 Atherectomy Device
Diamondback 360 Coronary Orbital Atherectomy System
Manufacturer: Cardiovascular Systems, Inc.
Our commitment to quality
The Otsuka group is committed to ensuring the safety of patients and medical professionals through enhancing the quality of its products and continuous improvement of the quality management system. This commitment stretches back to the group's founding and the words of founder Busaburo Otsuka (1891–1970), "Quality is vital in a factory and so is packaging. We have to manufacture and market, putting ourselves in the consumer's position." Otsuka Medical Devices honored our heritage by establishing an original "quality first" policy that is implemented throughout our global manufacturing operations to guarantee the delivery of reliable quality worldwide.
Otsuka Medical Devices' Quality Policy
To realize our corporate philosophy of "Otsuka-people creating new products for better health worldwide" through the manufacture and market of medical devices.
To ensure that all team members involved in our products comply with the requirements of the quality management system.
To work tirelessly to maintain the effectiveness of our quality management system and to improve it in response to changes in the environment and technology.
April 16, 2019, Noriko Tojo, President and Representative Director
ISO 13485:2016 certification
Applied to the design, development, manufacture, distribution, and shipping of vascular stents, certified in September 2022
(Location where certified: Head office, Tokyo Headquarters, HARUMI Technology Center)
News Release PDF