Global Research and Development Network
At Otsuka Medical Devices, we are excited to be growing our global research and development network. We are confident that by utilizing cutting-edge technology and combining the expertise of each group company, we can consolidate our position as a worldwide industry pioneer.
To realize this goal, we made structural changes to our global R&D operations and centralized our Japan teams into one location at the HARUMI Technology Center in Tokyo. By managing our R&D network from a central hub, we can promote further product development and work even more closely with our group member's R&D centers in Europe and the United States.
Through such world-leading collaboration, we can utilize our collective strengths to develop innovative medical devices that help the lives of patients for whom existing therapies have proved ineffective, or treatment options are yet to exist.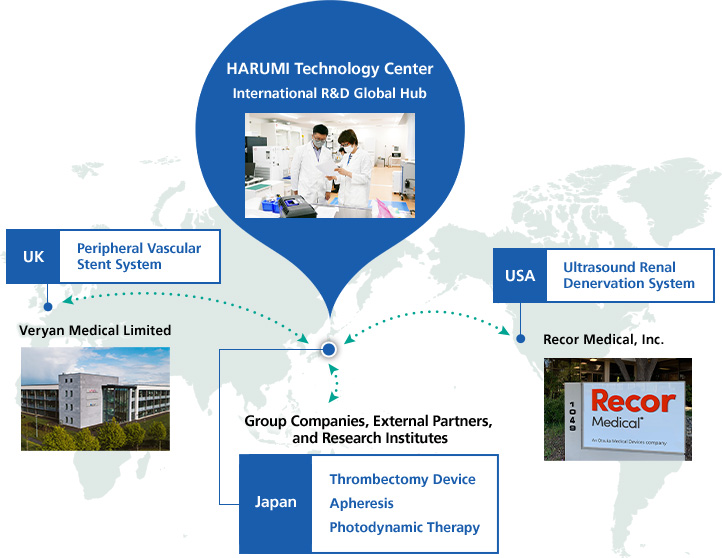 Research and Development in Priority Disease Areas
Renal and cardiovascular diseases
We are breaking new ground with the research and development of an ultrasound renal denervation (RDN) system that is a new treatment for patients with uncontrolled hypertension. In 2018, ReCor Medical, a US-based company that had been developing and manufacturing RDN systems with its own technology, became a member of the Otsuka Medical Devices group. Together we are accelerating the global research and development of medical devices for the treatment of hypertension and other cardiovascular diseases across the globe—with clinical trials in Japan, the US, and Europe already underway.
Otsuka Medical Devices is also developing new therapeutic devices for patients with peripheral arterial disease (PAD).
PAD in the legs or lower extremities is the narrowing or blockage of the vessels that carry blood from the heart to the legs. Symptom of PAD is pain in the legs with physical activity, such as walking, or even while at rest. If the disease progresses, it can cause ulcers and necrosis, and in severe cases, may require surgery or even amputation. The development of new therapeutic devices with UK-based Otsuka Medical Device group company Veryan Medical allows us to push the boundaries in the field of lower extremity arterial diseases by combining the pioneering coating technology and drug development know-how of the Otsuka group with innovative device design technology.
Cancer and refractory diseases
Through collaboration with Otsuka group companies and open innovation, we are conducting research and development into advanced methods of extracorporeal circulation photodynamic therapy (PDT) that target hematological cancers, with the aim of creating new treatment options that combine medical devices and pharmaceuticals.